How to get your patients started with AMVUTTRA®
Choose any of the 3 methods to complete the Start Form. Once enrolled, Alnylam Assist™ can provide support for patients throughout the treatment process.
Electronic Start Form
Complete and submit the Electronic Start Form online with your patient
DocuSign Start Form
Begin the Start Form and send to your patient over email to complete via DocuSign
Downloadable Start Form
Print, complete with your patient, and fax the Start Form to 1-833-256-2747
Patient support through Alnylam Assist™
Alnylam Assist offers support services to guide your patients through treatment with AMVUTTRA, including:
Financial assistance programs for eligible patients.a These may include:
Alnylam Assist Patient Assistance Program (PAP): Provides AMVUTTRA at no cost to eligible patients, primarily the uninsured, who meet specified financial criteria
Alnylam Assist Commercial Copay Programb: Covers certain

out-of-pocket

costs for eligible patients with commercial insurance
AMVUTTRA coverage, coding, and reimbursement education and patient-specific benefit verification
Help with ordering AMVUTTRA via specialty distributor or specialty pharmacy
aPatients must meet specified eligibility criteria to qualify for assistance. Alnylam reserves the right to make eligibility determinations and to modify or discontinue any program at any time.
bPatients with Medicare, Medicaid, or other government-sponsored insurance are not eligible for the Alnylam Assist Commercial Copay Program. Out-of-pocket costs for the administration of AMVUTTRA will not be covered for patients residing where it is prohibited by law or where otherwise restricted.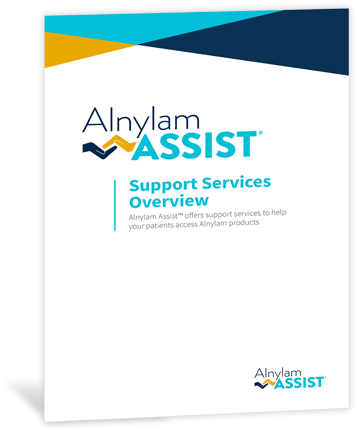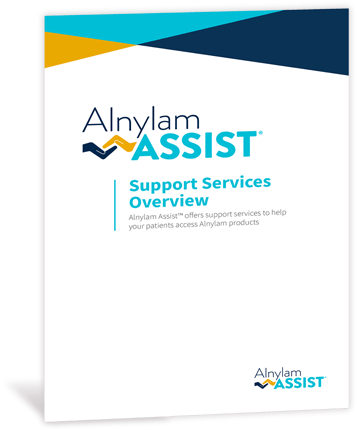 Alnylam Assist brochure
Learn more about patient support available through Alnylam Assist